How Hawaii's Berniecrats won the state convention
While the self-styled Progressive Wing of the Hawaiʻi Democratic Party was unable to fend off a coordinated establishment effort to elect a corporate lobbyist as party chair, they dominated the rest of the 2018 convention.
Photo: Hawaiʻi Young Progressives Demanding Action co-chair and Our Revolution Oʻahu executive committee member Cameron Sato speaks against one of the proposed rule changes brought forward by establishment Democrats aimed at limiting access to the party structure and consolidating establishment power. Long time party member Bart Dame, also speaking in opposition to the rule change, stands behind him. | Christina Kaleiwahea
---
In the early afternoon on Sunday, May 27, a little over 600 Democratic Party of Hawaii members, organized by State House district, sat around banquet tables throughout the grand ballroom of the Hilton Waikoloa Village hotel on Hawaiʻi Island's west side. Though nervous chatter filled the room, the attention was only half-focused on conversation as these delegates to the Democrats' 2018 state convention awaited the final results of the election for chairperson—the individual responsible for leading the party for the next two years.
As Kīlauea Volcano leached liquid fire up through cracks in the ground and as Moku o Keawe itself stirred, heaved and shifted, forces within the State of Hawaiʻi's dominant political party were jostling and competing for control over the direction in which Democrats themselves would embark for the future, taking with them the direction of both politics and policy in Hawaiʻi.
The state convention is where Democrats meet to make adjustments to the platform—the guiding document that expresses what Democrats stand for—as well as to the bylaws and rules—the internal governing documents of the party—and to make resolutions of support or opposition to important issues that affect us all. It is also where members of the State Central Committee (SCC), the governing body of the party, are elected. But for many of the delegates, it was the election of the party chair that mattered most.
Each group of Democrats, arranged by State House District, began caucusing around 10:30 a.m. And by 11 a.m., most district chairs had turned in their tally sheets for the vote. By 2 p.m., the results had been counted, the weighted voting for delegates from Kauaʻi, Oʻahu and Maui counties had been factored in, and the numbers were ready to be displayed. Some delegates paced behind their tables; others stared at one of the three jumbo screens displayed in the grand ballroom; others did their best to count votes, walking from table to table to collect vote tallies from the districts that would share them.
As the unofficial tally was added up, a Facebook Messenger note was sent out between the members of a faction of delegates who had organized themselves around their shared backing of Bernie Sanders—the self-described "progressive wing" of the party: it was going to be a nail-biter of an election.
Tim Vandeveer, a Sanders-supporting democratic socialist with ties to organized labor (former shop steward for UNITE HERE! Local 5 at Turtle Bay Resort) and the environmental movement on Oʻahu's north shore (Keep the Country, Country) had swept into power in 2016 with the surge of populist interest in the party generated by the primary election cycle that year. His chairmanship was challenged by Kealiʻi Lopez, a professional lobbyist who, from 2015–2017, campaigned on behalf of the agrochemical industry, the pharmaceutical industry, the insurance industry and the development industry.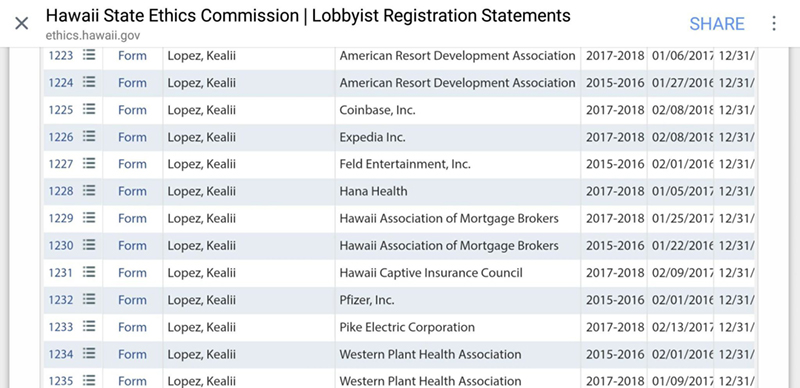 At long last, the results were displayed on the screen, district by district. Delegates held their breath as the final, weighted tally for District 51 was entered and the total was added up: 529 weighted votes for Lopez, 472 weighted votes for Vandeveer.
A cheer erupted from the back of the ballroom where Lopez supporters had gathered together. Vandeveer congratulated Lopez with grace and a smile, encouraging his supporters to help unify and organize the Democratic Party to make the 2018 midterms a successful election cycle for blue. And while Lopez echoed the sentiment in her acceptance speech and promised to work with progressives, the fact remains that Democrats had just elected a paid lobbyist representing some of the most regressive big-money interests to lead the party of the people.
And yet, in looking at the results of the convention as a whole, and in analyzing the chair's election, the 2018 convention was far from a repudiation of the progressive values that Vandeveer championed for the past two years since Bernie Sanders inspired him to run for party chair.
Bringing the Revolution
To put the election for chairperson into context, one first has to revisit the 2016 election and what that meant for Hawaiʻi politics. The Democratic Party of Hawaiʻi has been the dominant political party in Hawaiʻi for 50 years now. This naturally means that, although the party came to power through a working class, populist surge in participation, organization and campaigning loosely dubbed "The Revolution of '54" (but which actually occurred throughout the '50s leading up to statehood in 1959), the party has long since become the establishment.
Not only that, it is an establishment that—with only a few exceptions—has been more than able to fend off any real advances from the Hawaiʻi Republican Party, giving many of its establishment elected officials very comfortable legislative seats and little reason to grow, evolve or listen to valid dissent.
Outside of elected office, the party structure itself similarly has been dominated by a rigid old guard that simultaneously claims lineage from a revolutionary period of upheaval, while actively working to prevent another, similar revolution from taking place today.
Lopez was backed by this old guard and its extensions: an alliance of corporate lobbyists, establishment-aligned labor unions and Hillary Clinton supporters more concerned with punishing interloping "Berniecrats" than with moving the party away from the corporatism that turned voters off to Clinton's 2016 campaign. When Bernie Sanders inspired young people and the working class to get involved, he caused an influx of party newcomers that swept the State of Hawaiʻi Democratic Party Presidential Preference Poll (PPP), giving Sanders an average of 70 percent to Clinton's 30 percent. The establishment alliance viewed the poll results as a challenge to its authority and power.
These are generalizations and not meant to be taken as black and white: many longtime rank-and-file Democrats also supported Sanders; not all longtime Democrats are so afraid of losing power that they are willing to sacrifice the health and vitality of the party by actively rebuffing newcomers and their ideas. But some did and continue to do so, to the detriment of the party.
Despite the surge of activity Sanders had brought to the PPP, the establishment did not recognize the threat that Vandeveer's candidacy represented. In addition to Vandeveer, three other candidates with varying ties to the establishment ran for chair in 2016. The establishment vote was split between these three candidates, which allowed Vandeveer to win through a narrow plurality. After the election, members of the establishment alliance left the convention, allowing newcomers to pass a string of progressive resolutions.
Vandeveer brought with him the values of democratic socialism and the New Deal era, along with an emphasis on transparency and an open-door policy that made it easier for new members to access the party structure and become precinct and district officers, caucus members and even members of the SCC. Some of these changes ruffled establishment feathers and stepped on old guard toes.
The decision that had the most impact on Vandeveer's reelection and the story of the 2018 convention was the decision to host the convention on an island other than Oʻahu. The 2018 state convention was the first Democratic Party of Hawaiʻi convention held off of Oʻahu in some 30 years. At a fundamental level, state politics are heavily Oʻahu-centric, and residents and party members from Kauaʻi, Maui or Hawaiʻi Counties are constantly being forced to contend with ticket prices, lodging and other expenses to participate in the democratic process. In a good faith effort at inclusion and fairness, Vandeveer pushed for the convention to take place in Waikoloa on Hawaiʻi Island. This served to further upset the establishment, which holds its base on Oʻahu where the seat of government lies.
Given that Kauaʻi, Maui and Hawaiʻi Counties tend to lean more progressive than Oʻahu, and have demonstrated the capacity to forge ahead on progressive issues in spite of being frequently and heavily outspent by corporate interests, the decision to hold the convention on Hawaiʻi Island might sound like a good move for Vandeveer. But the very same financial issues that make it hard for progressives to participate on Oʻahu would make it hard for them to get to Waikoloa as well—harder even, because there are far fewer hotels to drive prices down there than in Waikīkī.
The common denominator in all of this is money: by its very nature, the establishment always has more than do reformers. This means the ability to fly in establishment delegates, regardless of the choice of island.
Realizing this, Vandeveer also pushed for remote access voting via telecommunication,. This would have expanded access and participation for those who could not make it to convention, and potentially shore up the disadvantage progressives had in funding.
This effort was voted down by the SCC in March. Establishment SCC members were going to vote against the move no matter what, but enough questions about expense and reliability of the requisite technology remained that even some progressive SCC members felt they had to vote no as well. This did not give party members who wanted to be delegates, but who were hoping to avoid travel expenses, a lot of time to react and plan accordingly.
With remote voting a non-starter, progressives redoubled their efforts toward fundraising in the weeks leading up to convention. Progressives from Hawaiʻi Island graciously opened themselves up to commuting delegates, offering rides, couches and more. Joint fundraisers were put on to fund a "Hawaiʻi Island Progressives," or "HIP," suite at the Hilton Waikoloa that could serve as a home base for progressive planning efforts, and as extra sleeping space for visiting delegates that could not afford to pay for a room of their own. Progressives hoped that, despite the disadvantages they faced, they would still be able to bring the revolution to Waikoloa.
Election Weighting
Delegates to the state convention are chosen at the statewide precinct meetings, held this year on March 7 across the archipelago. Additional delegates can later be added at the precinct, district and finally district chair levels until the total number of district delegates are filled. This number is based on Democratic Party participation in the previous presidential election.
Progressives knew ahead of time that they could not rely on Hawaiʻi County delegates to carry Vandeveer's election. The weighted vote system, which gives delegates who must pay for airfare and lodging a vote counting slightly more than delegates who do not have to fly in, meant that Hawaiʻi Island delegates might have had greater access to the convention, but they also had less valuable votes than visiting delegates. (And besides, simply living on Hawaiʻi Island does not guarantee access to the Hilton Waikoloa, particularly when a large portion of the island is being impacted by an active volcano).
Because Vandeveer's strong support on Hawaiʻi Island would be somewhat neutralized by the weighted vote system, progressives tried their best to use the March 7 meetings as a way to maximize the number of weighted delegates from Kauaʻi, Oʻahu and Maui counties that would vote for Vandeveer.
Progressives experienced varying levels of success. Some Oʻahu districts that were not expected to go well for progressives ended up being successes. But the establishment was able to direct its rank-and-file members to successfully run for delegate seats at many of these meetings as well. And this time, the establishment was not going to let its vote be split between candidates. Emmanuel Zibakalam, another lobbyist for the agrochemical industry (via the Hawaii Crop Improvement Association) was poised to run for chair, but announced he would step aside and back Lopez during the Oʻahu County Convention.
The International Longshore and Warehouse Union (ILWU)—a union whose shrinking base in 21st century Hawaiʻi has lead to an increasing reliance on corporations like Alexander & Baldwin and the agrochemical companies for its financial survival—was particularly effective at securing delegates from Maui County. The county is often viewed as the tip of the progressive spear: the first county to implement sometimes radical progressive policies, like a complete moratorium on GMOs; yet Maui was one of the strongest counties for Lopez, providing her with 66 votes to Vandeveer's 20.
The system of weighted votes was problematic for progressives from a technical standpoint as well. Rather than weighting votes by individual districts, Oʻahu, Maui and Kauaʻi county delegates had weight assigned to their votes equally based on the number of possible delegates from each county versus the number of delegates that actually came to convention.
This means that delegates from Up Country Maui—where Vandeveer has a good deal of support, but where many possible delegates could not afford the trip to Waikoloa—had the weight of their missing delegate votes shared equally with delegates who could afford to attend: more often than not, ILWU members whose way was paid by the union to come and support Lopez. Had the weighting been by district, the few Up Country Maui delegates that were able to attend would have had their pro-Vandeveer preference magnified and carried by their absent neighbors without also magnifying pro-Lopez votes from elsewhere in the county.
Despite the funding and the weighted votes, if it were not for a quick piece of politicking on the part of Lopez supporter Reena Rabago, another corporate lobbyist and former Oʻahu County chairperson, Vandeveer might still have won.
Rabago ensured that the union rank-and-file votes the ILWU and other conservative unions had flown in would be able to vote for Lopez when the time came. During the opening salvo of the convention, Rabago challenged both of the first two orders of the day: approving the standing rules and then the convention agenda. Progressives—who had met Friday night to strategize about the rule changes the establishment would once again try to introduce to limit access to the party for newcomers—were not expecting such a move and were caught off guard.
Rabago first challenged the standing convention rule that closed convention registration at 2 p.m. on Saturday, successfully framing her objection as a question of providing greater access to the convention. Progressives who had been fighting for remote access were dumbfounded to hear their own arguments used against them and, before a successful counter-argument could be crafted, a vote was held and a majority of delegates approved an amendment to the rules extending registration until 9 a.m. on Sunday.
Immediately after the approval of the revised rules, Rabago then challenged the agenda, which had the vote for party chair scheduled for 1 p.m. She argued that delegates who needed to fly out on Sunday would be unable to participate if the vote was held in the afternoon. She proposed that the vote be moved up to 10 a.m. on Sunday to allow delegates who needed to catch flights off the Big Island early on Sunday to do so.
Again, progressives were slow to react. Raina Whiting, a Hawaiʻi Island resident and candidate for State House District 3, labeled the two moves for what they were: a power play. In tandem with the proceeding standing rule change, Rabago had just ensured the presence of additional establishment delegates. Rabago's move was not about ensuring that any delegate would be able to register and participate, just the ones the unions had flown in to oust Vandeveer and that were likely out playing tourist on Saturday. Despite Whiting's attempt to sway delegates to leave the agenda alone, this change was also approved, but by a much closer written tally.
As a result of these two moves, between Saturday and Sunday approximately 150 extra delegates were registered, the vast majority of which were likely Lopez supporters. From the onset, it seemed that Vandeveer would lose the chairmanship.
However, progressives refused to give up, bringing printed material in support of Vandeveer with them on Sunday, which they feverishly passed out to delegates in an attempt to strike up conversations and promote Vandeveer's positive qualities and qualifications.
One of the Hillary Clinton supporters who backed Lopez, Carolyn Golojuch, harassed and accosted Vandeveer supporters who attempted to pass out these pamphlets to the delegates sitting near her table. "You Bernie Sanders people have no idea what it means to be a real Democrat," she hissed at a Vandeveer supporter. Her son, Michael Golojuch Jr., a visible Lopez organizer, ran for State House in District 40, Wahiawā, Whitmore Village, as a Republican in 2002).
There was, in fact, a third chair candidate: Gloria Borland, who received just 18 raw votes (38 weighted).
In the end, Vandeveer ended up winning the raw vote count, 292 to 277: a huge upset for the establishment. Just as Hillary Clinton won the popular vote in 2016 but lost the electoral college vote, Vandeveer only lost the election because of the weighted system. His support was both stronger than anticipated by establishment operatives and much stronger than it was in 2016 during the four-way plurality election when progressives were themselves split between Vandeveer and two of the other candidates. Considering all the advantages the establishment held—money, organization, experience, weighted votes, unification behind just one candidate and political maneuvering—it still barely succeeded in ousting Vandeveer, behind whom the progressive vote had consolidated. Even though many of the rank-and-file Lopez supporters cheered as the votes were displayed, the whips and organizers who really knew what was happening looked far less enthusiastic about the results.
Progressive Power
Outside of the chair vote, in all other respects, progressives made significant advances during the convention. One of the other important things progressives did leading up to convention was to make sure there were a good number of active, committed delegates working on each of the convention committees, including affirmative action, platform, rules and resolutions. These committees are responsible for vetting platform changes, rule amendments and proposed resolutions prior to convention. Participating on these committees allows for a degree of control over the convention proceedings, so it was important to feature strong progressive voices on each of these committees.
The committee report from the Platform Committee describes "significant amendments to the 2016 DPH Platform."
None of those points received much debate, however. But a section now labeled "HONORING NATIVE HAWAIIANS" was flagged for debate. The amendments to this section cut out all support for the policy of Federal Recognition of Hawaiians as an American Indian tribe. Instead, they reaffirm support for Hawaiian self-determination, including the possibility of total independence.
The news of the passage of these amendments to the platform was broadcast through social media almost immediately and the resulting debate was such a hot topic on Facebook that a Native Hawaiian couple at Ellison Onizuka Airport in Kailua-Kona—who were on the Big Island for a completely unrelated high school graduation—had already heard about the changes by Sunday night.
Immediately following the platform discussion on Saturday morning, the Rules Committee presented its report.
Progressives had spent a couple hours the night before at the HIP suite talking about this report in particular. Once again, establishment actors had introduced rule amendments seeking to either limit access to newcomers or consolidate power among their ranks.
The majority of these restrictive rule changes had been rejected by the Rules Committee thanks to the progressive presence on that committee. Although many of these regressive rule changes were not recommended by the committee, they could still be introduced on the floor of the convention for debate. Progressives expected establishment actors to re-introduce a proposed change that would have made organizing new party members at the Presidential Preference Poll—where, in 2016, Bernie Sanders inspired a flood of new progressives to take precinct officer positions and begin transforming the party from within—more difficult by making the process more confusing. Delegates rejected this proposal, along with several others.
One regressive rule change that was actually passed through the Rules Committee as recommended would have given party caucuses—relatively small organizing units consisting of active members who wish to organize around a specific issue such as women's rights—more voting power on the SCC. Currently caucuses have two voting SCC members each. The rule change would have made the chair of each caucus a voting member of the SCC as well, increasing the number of votes each caucus has from two to three. While this might seem reasonable on the surface, progressives knew that the move was really about consolidating establishment power, not better representing minority rights.
Proponents argued that caucuses deserve more voting power on the SCC. They are good organizing tools and they represent the interests of disenfranchised and vulnerable people and issues. Opponents argued that senate districts—which represent thousands of party members, many of whom are similarly active and care about the same issues that caucuses are organized around—also have only two voting representatives on the SCC. In fact, whole county parties only have three voting representatives on the SCC (each county has one male and one female at large representative to the SCC, and each county chair sits on the SCC).
The subtext for this proposal is this: some of the caucuses have become organizing units not for civil rights issues, but for specific members to build power for themselves within the party. As a result, they have sometimes been wielded as personal militias on behalf of these entrenched party members, often directed against newcomers.
Establishment caucus officers will actively screen new caucus members (against the party bylaws) and refuse to allow dissenting party members access to caucus votes. One of these officers, Michael Golojuch, Jr., even went so far as to cut an official meeting abruptly short when it became apparent that there were enough progressives present to vote him out of his position. He is the same caucus chair that introduced many of the rejected rules to limit participation, as well as the recommended rule to bolster caucus representation on the SCC. (Lopez, a member of the Hawaiian Affairs Caucus, spoke in favor of that rule change proposal.)
Thanks to progressive organizing, each of these proposed rule changes from the establishment alliance was voted down. As a result, progressives ensured that the party itself functions in a more transparent and honest way than it would have otherwise; perhaps the most impactful battle of the entire convention.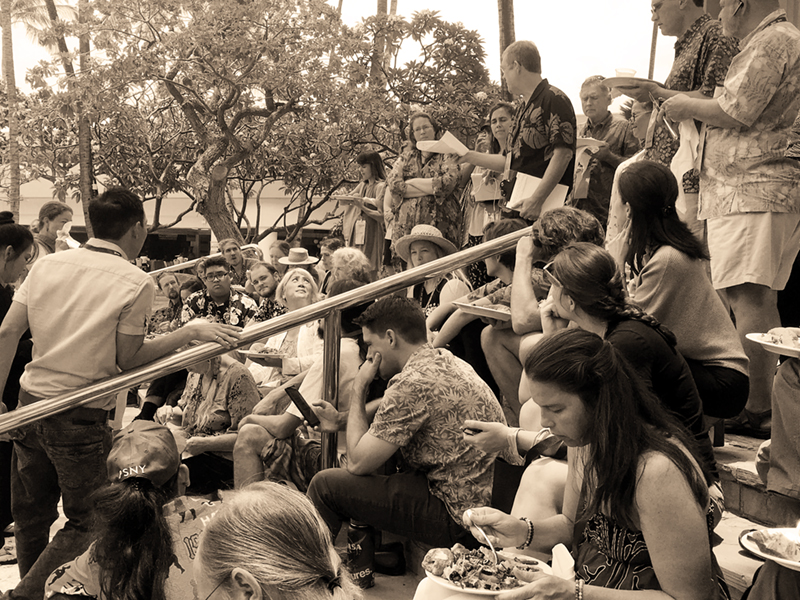 Photo: Some 50 or so progressives meet for a lunch strategy session during convention on Saturday, May 26, outside the ballroom. | Christina Kaleiwahea
---
The Resolutions Committee gave its report on Sunday afternoon, after the race for chair had already been decided. Many of the rank-and-file union delegates that had participated only in the chair vote had left; 605 delegates had been reduced to roughly 400. People were tired and irritable by this point. And progressives had just had to watch their candidate lose by the slimmest of anxiety-inducing margins.
Despite this, progressives still had to shepherd 50 favorably-recommended resolutions—the vast majority of which had been authored and introduced by members of the progressive faction—through convention. Here was a big opportunity to shape the aspirational direction of the party and officially establish party support for progressive ideas like proportional representation, ranked choice voting, disclosure of lobbying activity by party officer candidates, publicly financed elections, abolition of monetary bail, support for a continuous living wage, a universal basic income, prioritizing sustainability over profits in future development, an end to the practice of paying disabled workers subminimum wages and much, much more. More than half of these were introduced by members of Young Progressives Demanding Action (originally Students for Bernie Sanders) and/or by members of the Hawaiʻi Chapter of Our Revolution, the organization created to further the message of the 2016 Sanders campaign. All in all, 48 of the recommended resolutions passed, giving advocates more ammunition to use in advancing these progressive stances in the legislative process.
The resolution urging Hawaiʻi's officials to prioritize sustainability as a primary directive across all sectors of public policy was amended by a Hawaiʻi County delegate to include a concrete example of a development that should be opposed because it stands in direct opposition to the sentiment that sustainable development is development that does not sacrifice future needs for present profit: the proposed Hū Honua Bioenergy plant on Hawaiʻi Island.
This delegate, Koohan Paik (who just filed to run for state house in District 1), had passed a resolution at the Hawaiʻi County Convention a few weeks earlier, with resounding support, calling on the county and state to withdraw support from the biodiesel project. The project proposes to generate electricity through burning plant material, introducing more greenhouse gas into the atmosphere than burning coal. Because of an honest mistake, the secretary of the Hawaiʻi County party did not transmit the resolution to the State Convention's Resolutions Committee until right before convention. The committee could not establish a quorum in the short amount of time it had to consider the resolution, so it was not recommended.
Paik's idea to insert language from her resolution into the sustainability resolution put words into action by bringing the aspirational resolution to its logical, actionable conclusion. The amendment was passed and Paik's language was included in the final resolution.
A resolution urging the Hawaiʻi Congressional Delegation to pressure Israel to respect Palestinian human rights was narrowly defeated by a voice vote on the floor. The debate on the measure was respectful despite the issue's divisiveness. After the vote was over, opponents of the resolution—some of whom were aligned with the progressive camp—talked with proponents about ways that a compromise resolution might be drafted for the next convention. The conversation indicated that Hawaiʻi Democrats might be more reasonable on issues like Israel-Palestine than national Democrats pushing the Israel-Anti Boycott Act (including our own Congresswoman Colleen Hanabusa).
Another resolution calling on the Democratic Party of Hawaiʻi to prohibit paid lobbyists that represent for-profit entities from the positions of chairperson and vice chairperson of the party elicited a mixture of nervous laughter from delegates who had just watched a lobbyist for major corporations become elected chair. The resolution was ruled out of order on the advise of parliamentarian Dr. William Puette because it would have brought the party into conflict with the results of its own election.
Of course, this only served to underscore the problems with electing a paid corporate lobbyist to represent the party. Many of the positions on key issues taken by the authors of these progressive resolutions—like the position articulated in the sustainability/Hū Honua plant hybrid resolution—could very well be opposed by clients Lopez might find herself representing in her professional capacity.
There has been much talk about Lopez and other paid corporate lobbyists like Rabago being good people, despite their employers being responsible for some, if not most, of the social ills experienced by working people, young people, Native Hawaiians, the disabled, women, LGBTQ people, and other disenfranchised groups (the same groups for which caucuses are meant to fight). But these are not party activists who just happen to work for the corporate oligarchy that still dominates our islands. They are, in fact, paid operatives of lobbying firms tasked with controlling and limiting the ability of the Democratic Party of Hawaiʻi to serve as a vehicle for progressive advocacy. This is what is important to remember, regardless of their personalities.
And although Vandeveer called for party unity—and that certainly is an important goal—as Hawaiʻi's Democratic National Committee man Bart Dame said in his convention address, unity does not mean uniformity or conformity. Progressives must continue to fight regressive rule changes; they must continue to advance progressive policies through resolution; and they must absolutely continue to organize for leadership positions within the party to help steer it in the direction Hawaiʻi needs it to go. As the dominant party in Hawaiʻi, the people look toward Democrats to take leadership roles in advancing the needs of the people—not corporations.
This is a lesson that many establishment Democrats are still struggling to understand. Not all are willfully ignorant of this, or content simply to hold on to power: some simply have misplaced their priorities and care more about rigid party structure than about focusing on what is best for Hawaiʻi's working class. Progressives must continue to be cooperative with establishment Democrats when common ground can be found; but they must also continue to push the party forward when common ground cannot be agreed upon. Progressives must show the working class that the Democratic Party can still a place where their needs will be considered and championed, despite its corporatized, establishment nature. For Democrats nationally, and here in Hawaiʻi, the midterms and the 2020 presidential election hinge upon learning this lesson and demonstrating its truth to the public.
After the convention officially ended, the new executive committee of the SCC was formed as Lopez presided over her first meeting as chair of the party. Progressives secured a good number of seats on this critical body, including the vice chair position which is now helmed by Gary Hooser, founder of the Hawaiʻi Alliance for Progressive Action (HAPA) and director of the Pono Hawaiʻi Initiative (PHI). As they continue to work to securing more seats on the SCC, there are certainly reasons for optimism, but not because progressives will be able to accomplish a great deal of reform by working with Lopez. Rather, progressives will accomplish good things despite establishment resistance.
At one point on Saturday, during the lunch break, members of the progressive delegation met outside the ballroom on the steps of the artificial Hilton Waikoloa lagoon to strategize. Looking across the steps, the group of 50 or more dedicated agents of reform was an impressive sight to behold (so impressive that Michael Golojuch Jr. was seen taking pictures of the group from across the lagoon). This growing corps of activists just received another intense round of experience-building; they are getting better at organizing in the community, at the legislature and among themselves. The power that these increasingly experienced and organized activists are building while doing crucial electoral and legislative work is the source of true optimism for the future. As progressives look toward 2020, much work remains to be done. But the energy, drive and determination this faction demonstrated at convention has remained in the week following. If anything, it has only continued to grow. And that is all the proof needed to proclaim the 2018 convention a victory for the political revolution progressives are working toward.
---
Editor's Note: Will Caron is District 20 chairperson for the Democratic Party of Hawaiʻi and voted in favor of Tim Vandeveer's reelection. He is also an executive committee member for the Hawaiʻi Young Progressives Demanding Action and Our Revolution Oʻahu and self-identifies as a progressive. He also worked with Kealiʻi Lopez on the Resolutions Committee. Lopez abstained from the committee vote that advanced the lobbyist-ban resolution forward to convention.
Corrections: A previous version misstated that the last Democratic Party convention held off of Oʻahu was around 15 years ago. In fact, the last convention held off of Oʻahu was held on Maui in 1988, 30 years ago. The SCC representatives from the county parties was also misstated: the previous version reported that the chair and vice chair of each county constituted two SCC representatives. In fact, each county has three representatives to the SCC: one non-male and one non-female at-large representative, plus the county chair. Lastly, the original version of this story reported that Vandeveer had actually barely lost the raw vote count by two votes. Upon re-checking the official results, we discovered that he had actually won the raw vote count by 15 votes.